GEB America, a television network broadcasting to nearly 22 million households and a division of Oral Roberts University, announced today that Amy Calvert has been promoted to general manager. Calvert has been a part of the leadership of GEB America since 2007, most recently as the vice president of marketing and sales.
"GEB America is a growth vehicle for the ORU brand. Amy has the strength, tenacity and poise to take this networkinto the future," said GEB America President Ossie Mills. "She is a thoughtful collaborator and experienced veteran of the media world and I am thrilled that she will be at the helm of GEB America."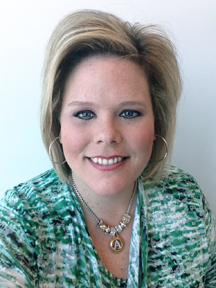 Calvert, a native of Jenks, Okla., graduated from ORU in 1996 with a Bachelor's degree in Broadcast Journalism. She has worked in local and national broadcast for more than 20 years in various capacities at the Tulsa ABC and NBC affiliates and the TV Guide Channel. Calvert has been recognized for her excellence numerous times by the Oklahoma Association of Broadcasters. She has also been instrumental in producing international health and ministry programming throughout her career.
"ORU has been a part of my life since birth and I'm honored to be 'home' and helping grow this network that is truly helping people live well," said Calvert. "I had the privilege of working with Chancellor Oral Roberts and heard his vision to see this network go around the world.  That is what we are striving toward."
GEB America is focusing on helping the 34 million Baby Boomers of faith to live well –Spirit, Mind and Body. From the campus of Oral Roberts University comes a place of hope for today and the promise of a better tomorrow.  Built on the network's vision founded by Chancellor Oral Roberts, GEB America leaps into the 21st Century providing Spirit-Empowered Edu-tainment. GEB America reaches more than 21.7 million households in North America and can be viewed on DirecTV Channel 363, Tulsa TV-53, KUGB TV 28.1 Houston, Trinidad and Tobago, SkyAngel andwww.geb.tv.